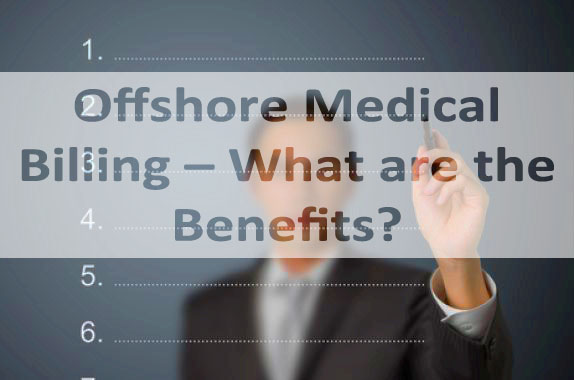 With the fast changes in the healthcare reimbursement domain, many of the US based medical billing companies are increasingly finding it difficult to service clients with just their internal resources.  The best solution is subcontracting some of the medical billing functions to offshore medical billing vendors. Thus, the US based, outsourced medical billing company as well as the healthcare facility can be assured that they are current with their billing and and maintain healthy collections from the Payers. Here are some benefits of the offshore medical billing model:
Cost Efficiency: Apart from the lower costs associated with wage arbitrage, there are significant cost savings in terms of reduced overhead expenses.  In addition, recruitment and training costs are also minimized resulting in considerable savings. When a US based  outsourced medical billing company takes the help of an offshore medical billing vendor, the costs will be reduced by as much as 40% to 50%.
Time Saving: The best way of time saving is to send the mundane, repetitive and time-consuming medical billing processes to offshore medical billing companies. Thus, the US based medical billing company can concentrate on its core functionalities while time-consuming processes are carried out by an offshore medical billing vendor to meet deadlines. In some cases, the US based medical billing company can acquire new clients based on the skill-sets present with its offshore medical billing vendor.
Risk Management: Healthcare outsourcing is one domain where a lot of risks are involved. A small error can have big financial implications. So, it is only prudent that US based revenue cycle management companies have a backup.  Since there are two teams involved – one based in the US and the other based offshore, there can be learning between teams that could 'catch' an error during the audit process at both ends. It is the ideal solution to manage risks!
Data Accuracy: When risks are managed efficiently, there will be minimal errors. Therefore, the US based medical billing company doesn't have to worry about data accuracy as it will be taken care of by the offshore medical billing company. If the outcome is accurate and precise, the company can gain complete customer satisfaction that would result in more business through referrals.
About e-Care India:
e-Care India is one of the renowned medical billing companies in India that promises the above mentioned benefits with total customer satisfaction. With 12 years of experience in the industry, e-Care's offshore medical billing delivery centers have been providing end-to-end medical billing services seamlessly to its clients. To know more about e-Care and its services, log on to www.ecareindia.com.