News
What's happening in ecare
"ecare India celebrates Ten Years Of Service Excellence In Medical Billing"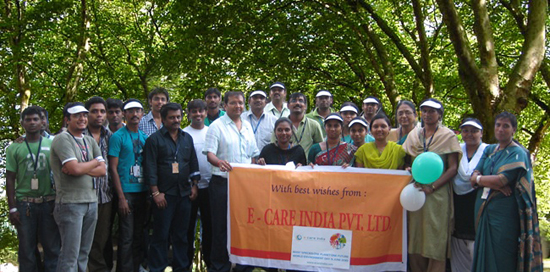 As a part of the celebration, team ecare wore green clothes, caps and ribbons and took oath to spread awareness about the environment, possible ways to save our mother earth including but not limited to Planting Saplings, reduced use of paper at Office and home, reusing plastic bottles, wise use of electricity and fuel resources, shift to alternative resources as and when possible, avoid polybags usage, collection of Trash and Garbage from public places etc.
For the year 2010, in line with the theme 'Many Species. One Planet. One Future', this year's events will celebrate the incredible diversity of life on Earth as part of the 2010 International Year of Biodiversity.
World Blood Donation Day – Token of love for mankind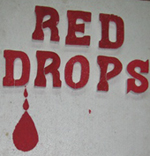 The "World Blood Donation Day" is celebrated worldwide on June 14. As an added initiative towards Social Welfare and as a celebration for " World Blood Donation Day", ecare India had organised the Blood Donation Camp on June 5th, on its premises from 10.30am to 5.30pm. This program had been intended to increase the awareness among the public on "importance of blood for the needy" and promote the value of "sharing blood". ecare Employees actively participated in the blood donation camp. Each participant had taken oath to "make earth a safer place to live".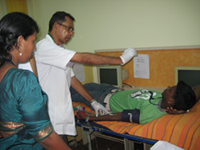 Speaking on the special joint celebration of the 'world environment day and the world blood donation day', Mr. Deepak Sanghi, the Managing Director, ecare india Pvt Ltd said "It's our moral responsibility to take care of mother nature, conserve natural resources and protect the planet by using less and acting more and that is what each ecare employee is committed to do". "Each one of us should highlight resources, initiatives and methods that promote low carbon economies and lifestyle such as: improved energy efficiency, alternative energy sources, forest conservation and eco-friendly consumption, Moreover, this blood donation drive is an initiative that ecare India has taken to save lives" added Deepak.
About ecare :
ecare India is a leading healthcare outsourcing service provider that offers end-end medical billing solutions. Ecare is also an ISO 9001:2008 company and the first Indian Medical Billing company to obtain ISO 27001:2005 certification. ecare does 24x7 offshore services enabling focus on clients' practices and transformation into high performance businesses.
About Jeevan :
Jeevan blood bank and research center started on 24th September 1995 with the vision of providing, on demand, safe blood and blood components collected from non- re numerated voluntary blood donors using appropriate and current technologies and in accordance to international standards.
Jeevan is a non- profit community blood bank situated in Chennai, India and managed by a board of trustees. Jeevan has collected over 85,000 blood donations and made available over 160,000 units of safe blood components to the community.
Affiliations
A Proud Member of HBMA